Hydrotex Launches New Series of Premium Food Grade Lubricants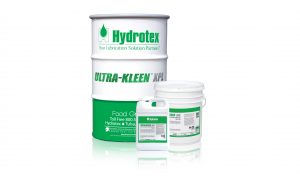 Hydrotex has launched a new series of premium food grade lubricants.  The Ultra-Kleen XPL series features a robust additive package which provides exceptional wear protection and extends fluid life. Products in the series have wide operating temperature ranges making them ideal for food processing and packaging equipment in both hot and cold environments.
Bill Link, Hydrotex's Vice President of Food Processing, commented that "We cover a wide range of applications in Food Processing and Packaging. We see everything from 50-year-old gearboxes to the newest technology in processing and packaging.  Demanding production schedules, extreme temperatures, water wash downs and sanitation chemicals present additional application challenges.  The addition of the Ultra-Kleen XPL series enables Hydrotex to provide a wider range of solutions to meet the ever-changing demands of the industry."
Eric Cline, PhD, Hydrotex's Director of Research and Development added, "The industry spoke and we listened. Lubrication technology has advanced to the point where food processors no longer need to choose between equipment reliability and food safety. Ultra-Kleen XPL provides industrial-grade performance in an NSF H1 Registered food grade product."
The Ultra-Kleen XPL series includes ISO viscosity grades 22 through 680, making the products suitable for a wide range of applications including: pneumatics, compressors, hydraulics, and gear drives, and specialized food processing equipment.
For more information on Ultra-Kleen XPL, call 800.527.9439 or fill out the contact form below.