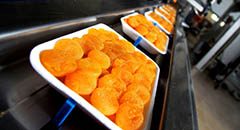 The name Ultra-Kleen™ says it all.
A full line of Food Grade lubricants, engineered for the demanding needs of the Food Processing industry. Performance, purity and dependability describe Hydrotex Ultra-Kleen Food Grade products.
Challenges
The Food Processing industry presents unique challenges to lubricant manufacturers, plant lubrication personnel and even the companies that design the equipment. Machines used in food processing facilities face many of the same tribological and lubrication challenges found in other industrial manufacturing facilities. Unfortunately, many of the raw materials used to formulate lubricants that effectively address these challenges in conventional industrial applications are not permissible in food applications for safety reasons.
Opportunities
One way to address these challenges is to partner with a company that designs products specifically for the applications, environmental challenges and safety concerns that exist in Food Processing facilities.
Using the purest base stocks and best additives available, Hydrotex engineers high-performing solutions that will help prolong the life of your assets, reduce the disruption and costs associated with unscheduled downtime and help create a safer environment for both your products and your employees.
The Hydrotex Solution
We believe that great performing products are only one part of developing and sustaining a superior lubrication program. Lubrication accounts for one of the lowest expenses in a plant operation, yet if it is done incorrectly, it can cost you tens of thousands of dollars in repairs and downtime.
Your equipment begins to fail the minute you turn it on. How long it lasts and how well it performs is up to you.
No one at Hydrotex works alone. We provide an in-depth team of trained individuals, from the local representative to our Food Processing focused staff at our headquarters. This collaboration supports continuous improvement efforts and ensures continuity.
We start with training your team members and developing a unique Lubrication Management Plan that provides the programs, products and services based on the needs and objectives of your team members.
Your custom lubrication program may include the following:
Training and Continuous Improvement Education Programs
Lubrication Audits
Equipment and Application Surveys
Critical Equipment Identification and Reliability Tracking Program
Product and Solution Recommendations driven by Application
Implementation Plans, Time Tables, and Process Management
Full portfolio of Food Grade, NSF Registered H1 / 3H products including Fluids, Greases, Process Oils and Specialty Lubricants
Oil Analysis Programs
Root Cause Failure Analysis
Cost Analysis, Return-On-Investment (ROI) Processes, and Equipment Energy Reduction Studies
Reporting Practices, Quarterly Reviews, and Follow-up
Hydrotex can help you make incremental, measurable and sustainable improvements in your lubrication program that will drive down not only your lubrication costs, but reduce your costs associated with operation and maintenance of your equipment.
Let's talk LETS.
Is your current supplier talking LETS? Probably not. Lubrication requirements and performance are dictated by LETS: Load, Environment, Temperature and Speed. Hydrotex products are engineered to perform in a variety of environments.
Talk to a trained Hydrotex Representative today to see how we can help you improve your current lubrication program.