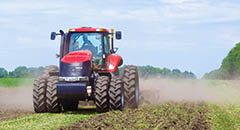 Efficiency is at the core of Precision Agriculture.
Hydrotex is the perfect partner for agriculture producers who have adopted Precision Agriculture as their management philosophy. Hydrotex understands the challenges the agriculture industry faces when it comes to maintaining complex and expensive equipment.
Challenges
Today's farming is difficult enough without equipment trouble. The last thing a farm operator needs is downtime or the expense of repairing costly machinery.
Opportunities
Hydrotex leverages over 75 years of experience in manufacturing and distributing high performance lubricants and fuel improvers to agriculture producers in the United States.
Our goal is to:
Reduce maintenance costs
Improve fuel efficiency
Offer products that are environmentally sensitive
Provide our customers with a return on investment
Hydrotex lubricants are formulated using the latest technologies available in the lubrication industry.
The Hydrotex Solution
Partnering with a Hydrotex Consultant will guide you through a process of discovering the best options available and designing a tailored solution that best meets the needs of your unique operation. With more than 80 years of working with agriculture producers, our collective expertise across the country will assist you in keeping current with the changes in equipment technology and optimal lubricant practices.
HYDROTEX PIVOT GREASE
Pivot System Grease is formulated specifically for agriculture applications to protect low speed enclosed gears subjected to heavy loads and water, while extending re-lubrication intervals.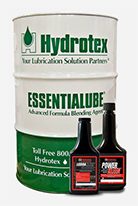 Formulated specifically for Center Pivot Irrigation Gear Boxes
NLGI Grade "000" Semi-Fluid Grease
Superior Rust and Corrosion Protection
Extends Life of Gear Sets and Seals
Increases Uptime of Irrigation System during the Growing Season
Extend Gear Box Drain Intervals up to 6 years
Keeps gears sets and seals coated with lubricant during idle periods when they are most vulnerable to rust and corrosion
Hydrotex formula significantly reduces gear box failure due to loss of lubricant from worn or leaking seals
Eliminate interruptions in the irrigation cycle due to gear box and seal failure
Wipe out the demanding physical job of replacing gear boxes during the growing season.

Oil & Fuel Analysis Programs
These detailed and in-depth analysis programs identify potential problems before they cause equipment downtime. Our laboratories evaluate each sample to determine problems and report them so corrective actions can be taken; an independent laboratory is utilized for oil analysis and testing.
Hydrotex collaborates with customers on Lubrication Management, a reliability-centered process that focuses on solutions to enhance our customers' overall operating model by reducing operating and maintenance costs and increasing reliability.
Select the Correct Lubricant and Fuel Improver Solution
Selecting the correct lubricant and fuel improver solution improves equipment efficiencies and reduces operating and maintenance costs. Hydrotex sells exclusively through our trained Hydrotex Representatives.