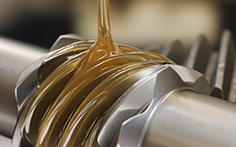 A Full Line of Proprietary Industrial Products: More than
30 Greases and More than 50 High Performance Industrial Lubricating Fluids
Challenges
In the world of Industry, all Lubricants are not alike. Lubricants differ greatly in their formulation, quality and performance.
Opportunities
Hydrotex lubricants are custom-made with Hydrosynthetic fluids and selected specifically for the customer's application. Field-tested on a variety of equipment, Hydrotex lubricants provide superior results and extend equipment life. No longer can an operator assume that "grease is grease." There is a difference, and Hydrotex demonstrates its results with continuous improvement, testing and analysis.
The Hydrotex Solution
Hydrotex works with industrial facilities to maximize ROI through innovative, sustainable lubrication solutions. Whether the industrial operation deals with paper, plastics, metals, or chemicals, an effective lubrication management program with Hydrotex provides state of the art expertise for the selection and use of the correct lubricants.
A unique Lubrication Management Plan is developed to provide the following services, programs and products based on the needs and objectives of each facility management team:
Lowest annual cost of sustainable lubrication
Full portfolio of Oils, Greases, and Hydraulic Fluids
Training and Continuous Education Programs
Oil and Fuel Analysis Programs
Equipment and Application Surveys
Lubrication Audits
Product and Solution Recommendations driven by Application
Critical Equipment Identification and reliability Tracking Program
Cost Analysis, Return-On-Investment (ROI) Processes, and Equipment Energy Reduction Studies
Implementation Plans, Time Tables, and Process Management
Root Cause Failure Analysis
Reporting Practices, Quarterly Reviews, and Follow-up
Select the Correct Lubricant and Fuel Improver Solution
Selecting the correct lubricant and fuel improver solution improves equipment efficiencies and reduces operating and maintenance costs. Hydrotex sells exclusively through our trained Hydrotex Representatives.