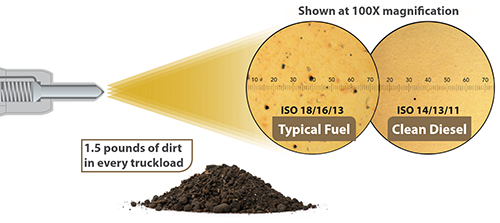 YOUR DIESEL NEEDS TO BE CLEAN
1.REMOVE External Contamination From Diesel Fuel
Your local distributor is required to deliver diesel that meets ISO Cleanliness 22/21/18. This is not clean enough for your equipment.
Filter incoming bulk diesel fuel to a cleanliness standard that ensures long-term reliable injector operation.
2.PREVENT Diesel Fuel from Generating Internal Contamination
Diesel fuel is subjected to high temperature oxidation and degradation in the common rail system.
Stabilize the fuel, prevent rust & corrosion, and clean-up injectors using year-round treatment with Power Kleen™ and Power Kleen™ Arctic.
Untreated Ultra Low Sulfur Diesel Fuel and B5 Cause Two Types of Deposits
Nozzle Tip Deposits
A. High Heat – hard carbonaceous deposits
B. Soft deposits caused by biodiesel
Internal Diesel Injector Deposits
C. Caused by high heat and unstable fuel
3.TEST Diesel Fuel on a Regular Basis.
Hydrotex Clean Diesel Fuel Management minimizes costly unplanned downtime by removing dirt, water, and other contamination before your fuel ever touches your equipment. Hydrotex diesel fuel analysis for measurement of contamination levels and stability ensures total fuel system reliability.