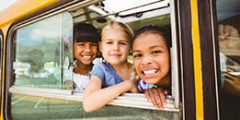 Hydrotex is Proud to be a Participating Member and Sponsor of the National Association of Pupil Transportation ("NAPT") and NAPT's Americas Best Competition.
We support more than 18 State Pupil Transportation Programs and two Regional Conferences; School Transportation News ("STN") Expo & Southeastern States APT.

The Hydrotex School Bus Maintenance Program is designed to let you cope with all the challenges inherent in a school bus operation. It's a tested and proven program, successfully implemented in school districts across the United States.
With Hydrotex, you get more than quality products. You get a proactive maintenance program for your specific needs. Hydrotex lubricants allow routine maintenance and safety checks to be performed on a calendar or a mileage basis. Work is scheduled in advance, using known idle periods such as school holidays and vacation time. Record keeping is simplified and a detailed service history can be easily recorded and maintained.
Lubrication training is a vital step in developing and maintaining successful maintenance programs. Through our Hydrotex Lubrication University, we offer fundamental and customized lubrication training, such as, our Principles of Lubrication, Clean Diesel Fuel Management seminars and customer specific training.
Training can result in a safer bus fleet, longer equipment life, less downtime, extended maintenance intervals and sizable savings in parts and labor.

Oil & Fuel Analysis Programs
These detailed and in-depth analysis programs identify potential problems before they cause equipment downtime. Our laboratories evaluate each sample to determine problems and report them so corrective actions can be taken; an independent laboratory is utilized for oil analysis and testing.
Hydrotex collaborates with customers on Lubrication Management, a reliability-centered process that focuses on solutions to enhance our customers' overall operating model by reducing operating and maintenance costs and increasing reliability.