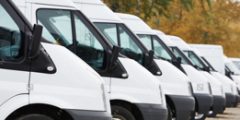 Hydrotex manufactures and distributes more than 300 products which include more than 30 different types of grease.
The Hydrotex Advantage
The Hydrotex Sustainable Fleets Partnership works to improve fuel economy by a targeted value of 5%. Additional benefits include reduced emissions and maintenance cost reductions.
The Hydrotex Solution
Fuel is the lifeblood of any fleet. That is why the Hydrotex Sustainable Fleets Partnership Program is pivotal to improving your bottom line. By combining the Hydrotex Clean Diesel Fuel Management™ and Lubrication Management™ Programs, you can expect optimum fuel economy and reduction in emissions.
Challenges
Fuel costs account for 40% of fleet overhead.
Injector designs are becoming more sophisticated and require high quality Clean Diesel to perform at optimum levels. Emissions control is also an important concern for modern fleets. Modern engine designs require advanced lubricants for optimum performance, long life, and fuel economy.
Objectives
Implementation of a Single Source Supply Agreement, featuring fuel and oil analysis, lubrication training, complete Fleet Survey, and lubrication consultation can do the following:
Improve fuel economy
Reduce injector and equipment failure rates and maintenance expenditures
Maintain the lowest possible emission levels
Implement fuel analysis, oil analysis, and extended drain intervals
Ensure Clean Diesel
Project cost and savings
Provide key metric reporting to decision makers

The Sustainable Fleets Partnership Program is a three phase process.
In the KEY PHASE, goals and expectations are set in terms of improvement in fuel consumption, drain interval extension, and maintenance costs reduction. An implementation plan is developed.
In the STARTER PHASE , your Lubrication Consultant will work with you to determine your annual projected costs and key metric baseline, such as current fuel quality and miles per gallon, current oil quality and drain intervals, and maintenance cost and frequency. This phase also includes completing the Hydrotex Fleets Survey, the Hydrotex Single Source Partnership Agreement, and Principles of Lubrication Training.
The ENGINE PHASE is an ongoing process of continuous improvement and includes the implementation of the Fuel Management with Diesel Dialysis® and the Lubrication Management programs, and access to the Hydrotex exclusive online Diesel Fuel Quality interactive reporting system. Your Lubrication Consultant partners with Hydrotex's Technical Response Team to conduct ongoing Key Metric reporting, training, and root cause failure analysis for fuel and lubrication related failures or concerns.