Wickham Tractor Now Carrying Hydrotex Pivot System Grease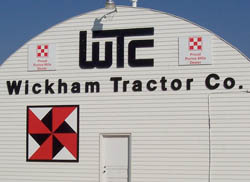 DALLAS – July 8, 2015 – Wickham Tractor, a leading agricultural and light industrial equipment dealer in northeast Colorado, has added Hydrotex Pivot System Grease to its offerings. Wickham Tractor has been serving agricultural producers and lifestyle farmers for almost 50 years with locations in Ft. Morgan and Sterling, Colorado. In addition to selling and servicing equipment, Wickham Tractor also carries feed and apparel.
"If you're in the ag business you're always looking for ways to cut input costs and increase your profits. Carrying quality products like Pivot Grease helps me help my customers do just that," said Gary Bonney, Parts Manager, Wickham Tractor.
Hydrotex Pivot Grease is formulated specifically for agriculture applications to protect low speed enclosed gears subjected to heavy loads and water, while extending lubrication intervals. It is part of a line of environmentally-sustainable lubrication solutions and incorporates Hydrotex's Hydrosynthetic Base Fluids, selected and blended by Hydrotex to address specific usage and environmental needs.
# # #
Hydrotex helps customers develop sustainable solutions designed to improve system reliability, save energy, limit pollution, extend fixed asset life, reduce maintenance costs and improve fuel efficiency. Its products and services leverage more than 75 years of innovation resulting in superior lubrication solutions and high touch customer service. For more information and to find your local Hydrotex consultant, contact www.hydrotexlube.com