Hydrotex Launches New Multi-Purpose Agriculture and Construction Grease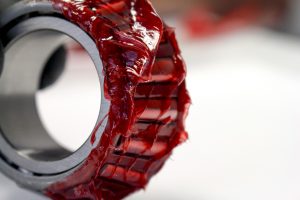 Hydrotex has added a new high-performance grease to their product line. Ruby-Tac™ 220 is a multi-purpose agriculture and construction grease designed for use in on- and off-road applications.
John Beasley, Hydrotex's CEO, explained the motivation for creating the new product, "Our customers asked for a high-performance, tacky, lithium complex grease for their heavy equipment. Ruby-Tac 220 fills this need at a competitive price point."
Eric Cline, PhD., Hydrotex's Director of Research and Development added, "Over the past few years, Hydrotex has made some considerable investments in research and development. This has given us a much more detailed understanding of the interactions between grease thickeners, base oils, and polymers on the molecular level. The formulation of Ruby-Tac 220 makes full use of this knowledge resulting in a product that outperforms competitors."
Mark Corwin, Hydrotex's Vice President of Agriculture, noted, "Ruby-Tac 220's extreme pressure protection and water washout resistance make it a great match for farm and construction equipment. Its multi-purpose formula makes it usable for several different applications, simplifying maintenance and purchasing."
Ruby-Tac 220 is available in NLGI grades 2 and 1. It is NLGI GC-LB certified and provides anti-wear and extreme pressure (EP) protection. With an ISO 220 base oil viscosity, Ruby-Tac 220 is formulated for use in a wide range of applications including: wheel bearings, pins and bushings, chassis components, u-joints, and fifth wheels.
About Hydrotex
Hydrotex® is a manufacturer and distributor of high performance lubricant and fuel improver solutions. Hydrotex is an employee owned company dedicated to helping customers develop sustainable solutions designed to improve system reliability, save energy, limit pollution, extend fixed asset life, reduce maintenance costs and improve fuel efficiency.