Hydrotex is First in the U.S. to Offer Redesigned perma STAR VARIO 2.0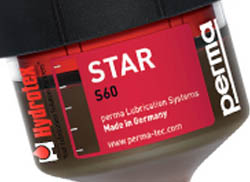 Lubrication Solutions for Reliability-Centered Maintenance
Hydrotex, a manufacturer and distributor of high performance lubricant and fuel improver solutions, announced a strategic alliance with perma USA, the innovative leader of single and multi-point lubrication systems. Hydrotex is the first manufacturer in the U.S. to offer the redesigned perma STAR VARIO 2.0.
The combination of Hydrotex synthetic greases with premium applicators including, perma FLEX and the revamped perma STAR VARIO 2.0, is a reliable, safe and cost effective lubrication solution for manufacturing plants across the United States.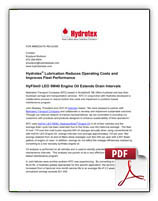 Kevin Keating, CEO of perma USA, said,"Perma partnered with Hydrotex because of their industry leadership in high performance lubricants, distribution method and compatible company values. The alliance focuses on exceeding customer expectations while providing a reliability-centered solution to reduce maintenance costs and unplanned downtime. It is a win-win alliance resulting in sophisticated product solutions and enhanced customer service."
"The complementary nature of this alliance will be valuable to customers looking for a reliable lubrication management process and continuous improvement. Successful lubrication management programs lead to improved reliability, lower annual operating costs and overall sustainable operations. Perma has high standards of customer service; their lubrication solution approach parallels our processes," said John Beasley, CEO and President of Hydrotex.
This alliance complements the Hydrotex lubrication management process for customers by consistently measuring and delivering lubrication in hard to reach points, therefore increasing safety since the need for manual labor is reduced. The lubricating system includes maintenance alerts based on the customer's extended maintenance intervals. Some of the new key features on the perma STAR VARIO 2.0 include a purging function, an increase in operating temperature and pressure build up and a monthly option for the discharge period. Hydrotex and perma USA are committed to help customers achieve superior standards of performance.
About perma USA
The name perma stands for innovative and creative solutions in lubrication technology. Single and multi-point lubrication systems from perma-tec can be found in all types of industries and applications everywhere in the world. perma-tec is the innovative leader of single-point lubrication systems and supplies more single-point lubrication systems than any other manufacturer worldwide. To hold this position, we invest extensively in research and development. Our success is based on great ingenuity with automatic lubrication systems.