Hydrotex to Present on Clean Diesel Fuel Management to the Florida Trucking Association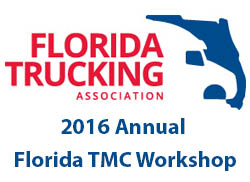 DALLAS – August 16, 2016 – Hydrotex, a high-performance lubrication and fuel improver company, announced today that John Cummins, vice president of product technology, will present at the Annual Florida Trucking Association's Technician & Maintenance Management Workshop Wednesday, August 17, in Deerfield, Florida. Cummins will be accompanied by Louis Morgan, the area's division partner.
Cummins presentation, Clean Diesel Fuel Management, will review the different contaminants found in the average shipment of diesel fuel considered to be meeting national fuel specifications, the damage it can do to the fuel system and how to clean current and future fuel supplies.
"Our workshop theme is Know Your Fluids," said Tisha Keller, vice president, Florida Trucking Association. "Hydrotex's Clean Diesel Fuel Management presentation complements other presentations by Shell and Prestone for a comprehensive overview on the most critical fluids to monitor."
The annual workshop, developed by the FTA's Technology & Maintenance Council, is targeted at maintenance managers, fleet managers, owners and key director in any size trucking company. Its mission is to ensure those working in the trucking industry are educated on its latest and most important innovations, and sharing best practices.
Those interested in attending can find registration information here. They are also invited to contact the FTA at 850.222.9900.
# # #
The Florida Trucking Association is the dynamic advocate and resource for Florida's trucking and transportation industry. It serves and represents the interests of members, while promoting highway and driver safety, and a healthy business environment. For more information, contact fltrucking.org
Hydrotex helps customers develop sustainable solutions designed to improve system reliability, save energy, limit pollution, extend fixed asset life, reduce maintenance costs and improve fuel efficiency. Its products and services leverage 80 years of innovation resulting in superior lubrication solutions and high touch customer service. For more information and to find your local Hydrotex consultant, contact www.hydrotexlube.com