Hydrotex Helps Kansans Make their Fuel Work Harder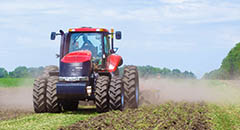 GARDEN CITY, Kansas – October 5, 2016 – Hydrotex, a national manufacturer and distributor of high performance lubricant and fuel improver solutions, aims to help Kansans make their fuel more efficient. The company will showcase its Clean Diesel Fuel Management program at the Western Kansas Manufacturers Association's 3i Show in Dodge City, Kansas, October 13-15, 2016.
Dale Williams, the Hydrotex representative in western Kansas, personally committed to providing free fuel testing and analysis to those from his area who sign up at his booth. This complimentary service will help them assess their fuel supply's quality and identify any threats that might impact equipment reliability and productivity.
"I look forward to helping operators protect their mechanical investments from costly repairs and downtime," said Williams. A successful fuel management program helps them get the most out of their fuel investment as well as the investment they've made in their machinery."
Those receiving the fuel testing will have samples of their fuel supplies pulled and sent to the Dallas-based laboratory for analysis. Once the testing is complete, Williams will contact the operators and walk them through the results and recommended next steps.
Individuals and groups interested in diesel fuel testing can sign up at the Hydrotex booth #296 at the conference.
# # #
Hydrotex helps customers develop sustainable solutions designed to improve system reliability, save energy, limit pollution, extend fixed asset life, reduce maintenance costs and improve fuel efficiency. Its products and services leverage 80 years of innovation resulting in superior lubrication solutions and high touch customer service. For more information and to find your local Hydrotex consultant, contact www.hydrotexlube.com