Hydrotex Continues Tradition of Recognizing Pupil Transportation Technicians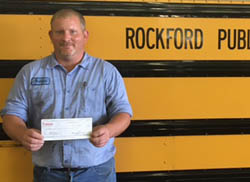 SAINT CHARLES, ILL – August 8, 2016 – Hydrotex, a high-performance lubrication and fuel improver company, presented a $500 scholarship to the winner of the Illinois Technician Competition recently held at the Illinois Association of Pupil Transportation conference in Peoria, Illinois. The state competition is part of the National Association of Pupil Transportation's (NAPT) nationwide America's Best Training and Skills Competition.
Richard Zipse, a school bus technician from Leaf River, Illinois, achieved the first place finish based on his scores on written test and a hands-on skills test. The tests included categories on routine school bus maintenance, individual technical components and the ability to diagnose, troubleshoot and repair various mechanical components found on school buses. Zipse works with Rockford Public Schools 205.
"Hydrotex is one of the founding sponsors of NAPT's America's Best Training and Skills Competition and we're honored to continue our support of state competitions," said Joe Stetina, Hydrotex division partner. "These individuals are the All Stars of pupil transportation technicians and represent the highest in mechanical skills and knowledge."
The Hydrotex scholarship will be used for Zipse's travel to the NAPT conference to be held this November in Kansas City, Missouri. NAPT's America's Best Training and Skills Competition will take place at the conference November 5-6 and Zipse will compete for the national title with state winners from around the country.
Those interested in more information about the America's Best competition can find it here. They may also contact NAPT at 800.989.NAPT (6278).
# # #
Hydrotex helps customers develop sustainable solutions designed to improve system reliability, save energy, limit pollution, extend fixed asset life, reduce maintenance costs and improve fuel efficiency. Its products and services leverage 80 years of innovation resulting in superior lubrication solutions and high touch customer service. For more information and to find your local Hydrotex consultant, contact www.hydrotexlube.com