Guthrie, Oklahoma Resident Earns Lubrication and Fuel Management Certification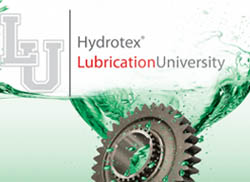 OKLAHOMA CITY – June 15, 2016 – Jeff Porter, Division Partner, Hydrotex, was recently certified as a Principles of Lubrication instructor. This credential recognizes his expertise as a lubrication and fuel management advisor and qualifies him to educate others on the topic including those working with heavy machinery, manufacturing and processing, and fleet management.
Principles of Lubrication (POL) is a component of Lubrication University, an educational institute affiliated with Hydrotex, a national manufacturer of high performance lubrication and fuel improver solutions. In order to be certified as a POL instructor, candidates are required to pass both written and oral exams. They must display a deep understanding of lubricants and the lubrication process and show proficiency in sharing information in an engaging manner that translates classroom material into real-world applications.
As an instructor, Porter will lead groups of 3-25 through a POL course that addresses the fundamentals including lubrication selection to prevent costly downtime and repairs, lubricant composition and oil analysis reports. He'll also review the latest findings in lubrication technology and applications, all on a complimentary basis.
"My customers include farmers, ranchers and maintenance personnel and they appreciate the significant investment their equipment represents," said Porter.  "They are depending on machinery valued into the hundreds of thousands, if not millions of dollars and they need to stay current with changes in lubrication practices. This 90-minute class will provide fundamentals necessary for understanding how lubrication management can reduce spending, avoid repairs and maximize their investment."
Porter, also provides the POL course to those outside his circle of customers. "Those taking the course are able to implement energy-saving maintenance regardless of the products they use," he said. "I have a vested interest in the success of this region and consider this an additional contribution."
Porter, who is based in Guthrie, Oklahoma, can be reached at JPorter@Hydrotexlube.com
# # #
Hydrotex helps customers develop sustainable solutions designed to improve system reliability, save energy, limit pollution, extend fixed asset life, reduce maintenance costs and improve fuel efficiency. Its products and services leverage 80 years of innovation resulting in superior lubrication solutions and high touch customer service. For more information and to find your local Hydrotex consultant, contact www.hydrotexlube.com