Danny Stephens Earns Certified Lubrication Specialist Designation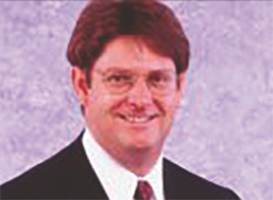 DALLAS – April 21, 2017 – Danny Stephens, Hydrotex Division Partner, has recently completed the testing required to earn the title of Certified Lubrication Specialist (CLS). This designation, the oldest lubrication certification available and considered by some to also be the highest level available, was created in 1993 by the Society of Tribologists and Lubrication Engineers. It recognizes those who demonstrate an understanding of a broad body of knowledge related to lubricants and lubrication fundamentals.
"I'm proud to be qualified as a CLS," said Stephens. "It adds credibility and shows customers and prospects that my knowledge has been tested and verified by an industry authority."
Stephens, whose Hydrotex business focuses in and around the Modesto, California area, joins an exclusive fraternity of only 1,227 individuals worldwide. Individuals are required to have at least three years of industry experience before attempting the certification process. Once approved to proceed they must score at least 70 percent on a three-hour exam covering 15 areas of lubrication:
Lubrication Fundamentals
Fluid Conditioning
Storage, Handling and Application of Lubricants
Monitoring and Reducing Consumption of Lubricants
Gears
Bearings
Seals
Fluid Power
Lubricant Manufacturing
Pneumatics
Metalworking
Solvents and Cleaners
Problem Solving
Lubricant Analysis
Lubrication Programs
The CLS exam is rigorous with only a 68% pass rate in 2016.
"The test was challenging however my customers are in a variety of industries so I was able to pull on that experience as well as my continued work through Hydrotex's Lubrication University."
Hydrotex Lubrication University (Lube U), is the company's professional development division. In addition to annual meetings, Stephens has trained and tested through the division's Principles of Lubrication program, which ensures he is prepared to instruct customers and their teams on lubrication. Stephens teaches lubrication courses throughout California, including onsite facility lubrication classes and has also been invited to teach courses at Kern County Community College, US Army Corps of Engineers, NAPT and various corporate events seeking his professional expertise.  He can be reached at DStephens@Hydrotexlube.com
# # #
Hydrotex helps customers develop sustainable solutions designed to improve system reliability, save energy, limit pollution, extend fixed asset life, reduce maintenance costs and improve fuel efficiency. Its products and services leverage more than 80 years of innovation resulting in superior lubrication solutions and high touch customer service. For more information and to find your local Hydrotex consultant, contact www.hydrotexlube.com
The Society of Tribologists and Lubrication Engineers (STLE) is the premier technical society serving the needs of more than 13,000 individuals and 200 companies and organizations that comprise the tribology and lubrication engineering business sector. STLE members are experts who research, develop and market the methods and products that make industry more successful and that enhance the well-being of people worldwide. Members are employed by the world's leading corporations and academic institutions and by governmental agencies dealing with science and technology.