Custom Lubrication Training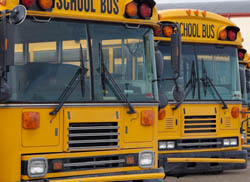 Dallas County Schools Partners with Vendors to Educate Technicians
Dallas County Schools' technicians gathered for a day of classroom and technical training with Hydrotex®, Stewart & Stevenson and Alternator Service.
DALLAS, Texas-April 2, 2013- Dallas County Schools' technicians gathered for a day of classroom and technical training with Hydrotex®, Stewart & Stevenson and Alternator Service.  Over 60 technicians participated in this continuing education program.
"We are thrilled about the training provided to the technicians; offering continuing education programs has always been a priority," stated Gary Sutton, Fleet Manager of Dallas County Schools.  "Hydrotex is training on the Principles of Lubrication.  It is one thing to simply pour oil in a bus and another to know the correct lubrication management practices and how to read an oil analysis.  In addition, we had transmission training by Stewart & Stevenson to learn various factors about the Allison Transmission and Alternator Service training on the new battery and charging system. Dallas County Schools has 12 service centers. So training not only builds confidence and reliability, it develops community.  The technicians are also tested in Texas Association of Pupil Transportation (TAPT) courses. The education they received is invaluable."

Dallas County Schools is the 3rd largest pupil transportation fleet in the United States. Operating a fleet of approximately 2,000 buses, Dallas County Schools transports approximately 71,000 children to and from school each day.
"Safety is our number one goal.  In order to ensure safety, we need the proper knowledge and equipment.  I'm looking forward to future training sessions," said Amzad Hosein, Shop Supervisor at the Kleberg Service Center.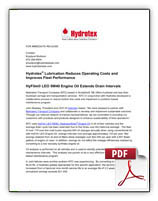 "Our goal is to teach the technicians about lubrication management practices and increase their knowledge about sustainable solutions.  I believe the correct training, tools and products will save money and extend the equipment life for these maintenance programs," said Dwight Gleaves, VP of Pupil Transport Sales at Hydrotex.
Hydrotex collaborated with Stewart & Stevenson and Alternator Service to tailor the training for Dallas County Schools.  Hydrotex offers customized lubrication training to school districts across the nation.
About Alternator Service
Alternator Service has been in business since 1963. Our first building was located on Elm St. in Downtown Dallas but moved to our current location in 1978. In 2002 we added a second location in Fort Worth, Texas. The philosophy of our company has always been based on sales and service. Our shop technicians are factory trained and certified. Our friendly and knowledgeable sales staff is ready and waiting to handle all of your needs. We are a full line stocking warehouse distributor. We specialize in high amp alternators and starters for transit bus, fire truck, school bus, shuttle bus, limousine, mining vehicles and military vehicles as well as many other transit bus parts. Whether it is an old vintage unit or the newest models, we have the parts you are looking for.
About Stewart & Stevenson
Stewart & Stevenson is a leading designer, manufacturer and provider of specialized equipment and aftermarket parts and service for the oil and gas and other industries that we have served for over 110 years. Our wide range of products support hydraulic fracturing, well stimulation, workover, intervention and drilling operations. These products include pumping, acidizing, coiled tubing, cementing and nitrogen units, drilling rigs and workover rigs, power generation systems and electrical support and distribution systems.
Partnering with world-class original equipment manufacturers, including MTU, MTU Onsite Energy, Detroit, Electro-Motive Diesel, Deutz, Allison and Hyster, we market diesel and natural gas engines, transmissions and material handling equipment.
We provide aftermarket parts and service to customers in oil and gas, power generation, marine, mining, on-highway, construction, agriculture and other industries where our equipment is utilized. In addition, Stewart & Stevenson serves the transportation industry with 19 on-highway locations providing parts and services for Detroit and Mercedes engines and Allison automatic transmissions.   We also offer a broad range of rental equipment that includes generator sets, air compressors, rail car movers and material handling equipment.
Headquartered in Houston, Texas since 1902, Stewart & Stevenson provides equipment and service to the global market from a strategic network of sales and service centers in domestic and international locations.