Hydro-SYN 70C – Barmag AFK Traverse Box Grease Trials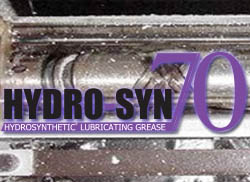 Hydro-SYN 70C – Barmag AFK Traverse Box Grease Trials
A major polyester fiber producer had been experiencing concerns with premature shoe guide wear and excessive damaged product due to grease contamination from their draw texturizing.
The customer asked Hydrotex® to review the application and determine if a solution could be developed that would reduce the production amount of second quality product as well as extend guide shoe life.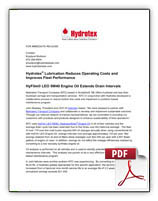 This trial originated in January 2001. Side A of the machine was lubricated with Hydrotex Hydro-Syn 70C grease and side B was lubricated with the latest version of Orelube™ BM50. The machine was equipped with rebuilt traverse boxes at that time. The boxes on both sides were lubricated using Barmag's (OEM) latest procedure during cleaning in April. Both sides of the machine processed the same lot specifications throughout the trial. The following pictures demonstrate the condition of the grease in each segment of the trial. The pictures are typical of all boxes inspected on each side of machine #34.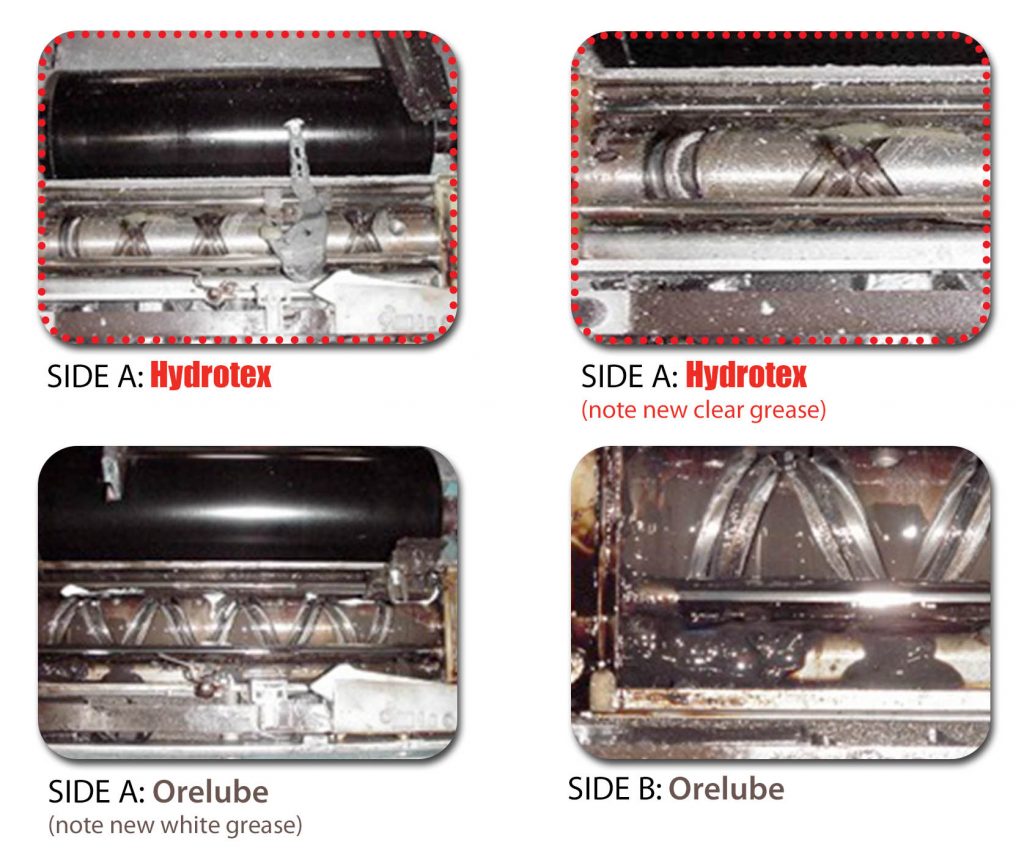 Following are observations made in conjunction with the Maintenance department during inspection of the machine:
Although the boxes with Hydrotex® appeared dry, a layer of grease was still present on the traverse components.
It appeared as if the traverse shuttles on both sides of the machine would last for the full 12-month life expectancy, but shuttle wear was worse on the Orelube positions.
The clumps of light colored grease in both sets of pictures were from the lubrication being performed during the current overhaul.
The black colored grease in the Orelube positions was tacky to the touch and was very similar to the broken-down grease found in previous analyses of the traverse boxes.
Side A of the machine using Hydrotex Hydro-Syn 70C grease produced 373% less defective packages (greased) in comparison to the Orelube BM50 (Side B) since  April.
Based on these observations and the past history of lubrication problems experienced with Orelube, it appears that Hydrotex grease offers superior performance in comparison to Orelube.
This customer converted to Hydrotex at the conclusion of this trial.  Guide shoe wear has reduced significantly with life expectancy now fixed at 24 months.  The quantity of second quality product being produced has greatly diminished resulting in a much healthier bottom line for the production facility.
Machine 34A&B – 324 Packages/Day
Defective Rates (May 2 – May 22, 2001)
34A Hydro-Syn 70C, NLGI #0 – 1.23%
34B  Orelube – 6.73%