Hydrotex Honored as a Best Place to Work by Dallas Business Journal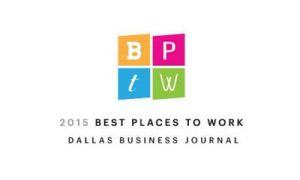 DALLAS – July 6, 2015 – Hydrotex, a leader in sustainable industrial lubricants and fuel improvers, has been selected by the Dallas Business Journal as one of the region's Best Places to Work. The distinction was announced at a luncheon held June 26 at the Fairmont Hotel.
Independent research firm Quantum Workplace surveyed employees from several hundred companies before compiling the data, crunching numbers and tallying results. Honorees were selected based on employee surveys on topics including employee engagement, professional development and perceived value by leadership.
"We're humbled by this recognition, particularly because it is based on how our employees feel about our company," said Beverly Brunner, human resources leader. "Our emphasis is on work being a positive experience for each individual on a daily basis and it's rewarding to see that happen."
The Best Places to Work competition included querying companies on perks and benefits that set them apart. Hydrotex highlighted its Employee Stock Ownership Plan in which employees become partial owners after their first year of service when the company grants ownership shares at no charge to the employee. With the Employee Stock Ownership Retirement Plan, Hydrotex employees have the opportunity to directly benefit as the company increases its profitability.
Hydrotex is further differentiated through its structure as an organization of entrepreneurs who operate a national business through ongoing collaboration. Independent area consultants operating their own businesses advise customers in agriculture, manufacturing and other industries on maximizing their investment in equipment and heavy-duty fleets with proper equipment lubrication and fuel additives. Hydrotex is currently expanding in new areas and aggressively recruiting for openings nationwide. Those interested should refer to the career section on the company's webpage.
# # #
Hydrotex helps customers develop sustainable solutions designed to improve system reliability, save energy, limit pollution, extend fixed asset life, reduce maintenance costs and improve fuel efficiency. Its products and services leverage more than 75 years of innovation resulting in superior lubrication solutions and high touch customer service. For more information and to find your local Hydrotex consultant, contact www.hydrotexlube.com