Hydrotex Honored Again as a Best Place to Work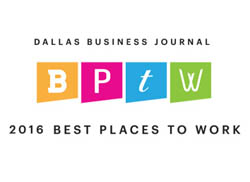 DALLAS – September 21, 2016 – Hydrotex, a leader in sustainable industrial lubricants and fuel improvers, has again been selected by the Dallas Business Journal as one of the region's Best Places to Work (BPTW). The distinction was announced at a luncheon held September 15 at the Fairmont Hotel.
"Last year was our first year to participate," said Beverly Brunner, human resources leader. "To receive this honor a second year in a row indicates our programs continue to resonate with employees and benefit both their professional and personal lives."
The BPTW award is based on data collected by independent research firm Quantum Workplace. Employees from several hundred companies are surveyed on topics including employee engagement, professional development and perceived value by leadership.
The BPTW competition includes querying companies about their number one value. Hydrotex cited trust, as the organization operates virtually, through collaboration. Independent area consultants across the nation work with corporate and one another as they operate their own businesses and advise customers in agriculture, manufacturing and other industries on maximizing their investment in equipment and heavy-duty fleets with proper equipment lubrication and fuel additives.
Hydrotex is currently expanding in new areas and aggressively recruiting for openings nationwide. Those interested should refer to the career section on the company's webpage.
# # #
Hydrotex helps customers develop sustainable solutions designed to improve system reliability, save energy, limit pollution, extend fixed asset life, reduce maintenance costs and improve fuel efficiency. Its products and services leverage 80 years of innovation resulting in superior lubrication solutions and high touch customer service. For more information and to find your local Hydrotex consultant, contact www.hydrotexlube.com