Hydrotex Continues Emphasis on Food Processing with Product Kosher Certification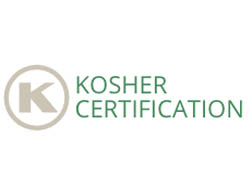 Tulsa, Okla – September 7, 2016 – Hydrotex, a high-performance lubrication and fuel improver company, has recently marked its 9th annual certification renewal with OK Kosher Certification for its food-grade lubricants and greases. These lubricants are approved for use by food processors and producers of kosher products.
OK Kosher Certification is the world's leading kosher certification agency, operating across six continents. With more than 80 years of compliance experience and a client list of household brand names, OK Kosher's focus and commitment are geared to providing exceptional, custom-tailored kosher certification.
"We value our continuous record of kosher certification for our food-grade products," said Bill Link, vice president, Food Processing. "The certification recognizes our ongoing ability to produce using highly sanitary methods throughout our manufacturing process."
"We are very pleased to have Hydrotex join with other leading manufacturers who have achieved OK certification over the years and, through our certification process, bring their products to an ever-growing kosher market place," said Rabbi Eli Lando, OK Kosher's executive manager.
OK Kosher certification confirms that Hydrotex complies with a strict policy of kosher food laws, as well as applicable cleanliness standards of its food-grade products. This benefits customers who are kosher food manufacturers as they must ensure that any lubricant or grease that makes it into the food is both food grade and kosher. For those customers, all ingredients in every product must be certified for kosher-compliance.
Hydrotex's food-grade products are available through a network of professionals trained to help customers save energy, reduce mechanical wear and increase reliability through the proper selection and application of lubricants. The company's food processing department specifically focuses on bakery, beverage, confectionary, meat processing, milling, prepared food, produce and dairy.
# # #
Hydrotex helps customers develop sustainable solutions designed to improve system reliability, save energy, limit pollution, extend fixed asset life, reduce maintenance costs and improve fuel efficiency. Its products and services leverage 80 years of innovation resulting in superior lubrication solutions and high touch customer service. For more information and to find your local Hydrotex consultant, contact www.hydrotexlube.com