Hydrotex Adds Mike McLaughlin as Division Partner in Texas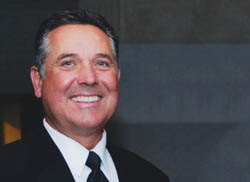 DALLAS – August 3, 2016 – Hydrotex, a national manufacturer and distributor of high performance lubrication and fuel improver solutions, announced Mike McLaughlin has taken the role of Division Partner serving West Central Texas.
McLaughlin has been with Hydrotex for more than 16 years, having served most recently as vice president of agriculture sales. In this role he spent a significant portion of his time traveling and working with agriculture producers, Hydrotex Lubrication Consultants and Division Partners.
"Having worked with Division Partners every day I was well aware of the position's long-term benefits and kept it in the back of my mind as a next step," said McLaughlin. "When the DP role opened up in this area I accelerated my plans to take advantage of the opportunity."
As a Division Partner, McLaughlin partners with customers to help them achieve the "Lowest Annual Cost of Ownership" of their machinery and equipment. In addition to the industry-standard focus on premium lubrication, reduced friction and reduced wear, Hydrotex Lubrication Solutions address biodegradability, recyclability, oxidation stability, reduced cost, worker health and application knowledge.
McLaughlin's background includes a successful career as a professional rodeo cowboy. He was inducted into the Texas Rodeo Cowboy Hall of Fame in 2013 and continues to enjoy team roping as a hobby. He is based in Early, Texas, and can be reached at MMcLaughlin@Hydrotexlube.com
# # #
Hydrotex helps customers develop sustainable solutions designed to improve system reliability, save energy, limit pollution, extend fixed asset life, reduce maintenance costs and improve fuel efficiency. Its products and services leverage 80 years of innovation resulting in superior lubrication solutions and high touch customer service. For more information and to find your local Hydrotex consultant, contact www.hydrotexlube.com