Ted Nelson Retires After 26 Years with Hydrotex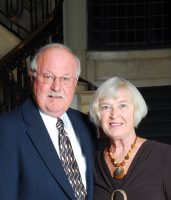 DALLAS – October 26, 2018 – Ted Nelson, one of our top Lubrication Consultants, is retiring after decades of excellence. Hydrotex greatly appreciates Ted's contribution to the company, and his dedication to customer service embodied what it means to be part of the Hydrotex family.
Ted Nelson began his career with Hydrotex on June 11, 1992. In 26 years with Hydrotex, he has become a model of excellence. In 2004, Ted Nelson was in the Top Three in Volume and the Top Earner in Sales by an LC. He sold 23 Product Groups to more than 100 Industrial Customers and was awarded Lubrication Consultant of the Year. The President's Award is given based on the sole judgment of our CEO. Ted and his wife Inta earned the President's utmost respect over the first eleven years of Hydrotex Partners, Ltd. existence by their personal and public achievement of excellence in their chosen role. They achieved this level of performance at a time in their lives when most of us are not gainfully engaged. During his time with Hydrotex, Ted and Inta traveled the world on 18 Fantasy Trips to destinations including Rome, Australia, Paris and Argentina.
HyPerformance Award – 1999-2017
Ted earned the HyPerformance award for 19 consecutive years. Many of these years he achieved Silver or Gold Level.

Lubrication Consultant of the Year – 2004
LC of the Year is an annual award presented to the Lubrication Consultant who performs at the top level of expectations we have for this position
President's Award – 2009
The President's Award was created to recognize an individual or a team who made outstanding contributions to our Hydrotex Partners organization over an extended period. The Award is rare, very special and is not given every year.
Most Product Groups Sold by an Individual – 2015
Ted sold 25 different product groups in 2015.
# # #
Hydrotex helps customers develop sustainable solutions designed to improve system reliability, save energy, limit pollution, extend fixed asset life, reduce maintenance costs and improve fuel efficiency. Its products and services leverage more than 80 years of innovation resulting in superior lubrication solutions and high touch customer service. For more information and to find your local Hydrotex consultant, contact www.hydrotexlube.com