Hydrotex Annual Meeting Celebrates Professional Development, Networking, and Achievement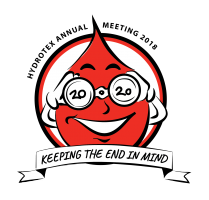 DALLAS – January 18, 2018 – Hydrotex, a national manufacturer and distributor of high performance lubrication and fuel improver solutions, will welcome 150 of its sales force leaders and their spouses to Texas for its Annual Meeting February 21-25, at the Embassy Suites in Grapevine. Under the theme of Keeping the End in Mind, participants will gain new skills, collaborate with one another and celebrate achievements from 2017 and beyond.
"The Annual Meeting is a highlight of the Hydrotex calendar," said John Beasley, Chairman and Chief Executive Officer. "Since we're a virtual organization of entrepreneurs this is the only time everyone physically gathers in one place. As the meeting progresses it's exciting to see new relationships develop and long-term relationships deepen.
"Keeping the End in Mind was selected for the theme as each leader's business requires that he or she operates with a deliberate focus on how today's activities influence the results of tomorrow, next month, next year and beyond. A Hydrotex leader must be able to be both strategic and tactical; see the big picture and then sweat the details. Those that do this well are quite successful and will be at the front of the room teaching others."
The four-day event features welcome dinners, VIP dinners, keynotes, small group breakouts, spouse events, networking opportunities and relaxing entertainment. The culmination is the Saturday evening banquet and awards ceremony where the highest company achievers are announced and celebrated.
This year's awards ceremony will be hosted by former US Army Captain Wayne Wheat. Wheat, who parlayed his military career into multiple entrepreneurial ventures, is also a best-selling author who recently released his second book, Before You Jump. The book helps prepare readers to successfully start a new challenge or project and includes personal anecdotes from Wheat's storied career.
"Many of our leaders have a military background and will be able to relate to Wayne and his experiences," continued Beasley. "We're also fortunate to have leaders who have been with the company for over 50 years and those who joined us last month. I'm looking forward to seeing them learn from one another and am confident it will be an enriching experience for all of us."
The Hydrotex Annual Meeting is held in collaboration with Lubrication University, Hydrotex's professional development division. Lubrication University is dedicated to providing best-in-class skills in the implementation and management of sustainable lubrication and fuel management programs. Offering courses through its Dallas training facility, customer on sites and online, Lube U is available to Hydrotex customers and others interested in reducing maintenance cost while increasing uptime and return on investment. Hydrotex field team members are also able to access Lube U's offerings to maintain their industry-leading skills and continue their professional growth.
# # #
Hydrotex helps customers develop sustainable solutions designed to improve system reliability, save energy, limit pollution, extend fixed asset life, reduce maintenance costs and improve fuel efficiency. Its products and services leverage more than 80 years of innovation resulting in superior lubrication solutions and high touch customer service. For more information and to find your local Hydrotex consultant, contact www.hydrotexlube.com